Hailing from Sydney, Australia, the Sick Puppies are probably the awesomesaucest thing on our site. The band consists of epic vocalist and guitarist Shimon "Shim" Moore, superhot bassist Emma Anzai, and phenomenal drummer Mark Goodwin. The band is most famous for the hit single All The Same, which is the music for the famous "FREE HUGS" video. They play hard rock and grunge and are currently wrapping up the tour for their latest album Tri-Polar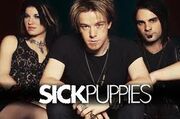 Ad blocker interference detected!
Wikia is a free-to-use site that makes money from advertising. We have a modified experience for viewers using ad blockers

Wikia is not accessible if you've made further modifications. Remove the custom ad blocker rule(s) and the page will load as expected.